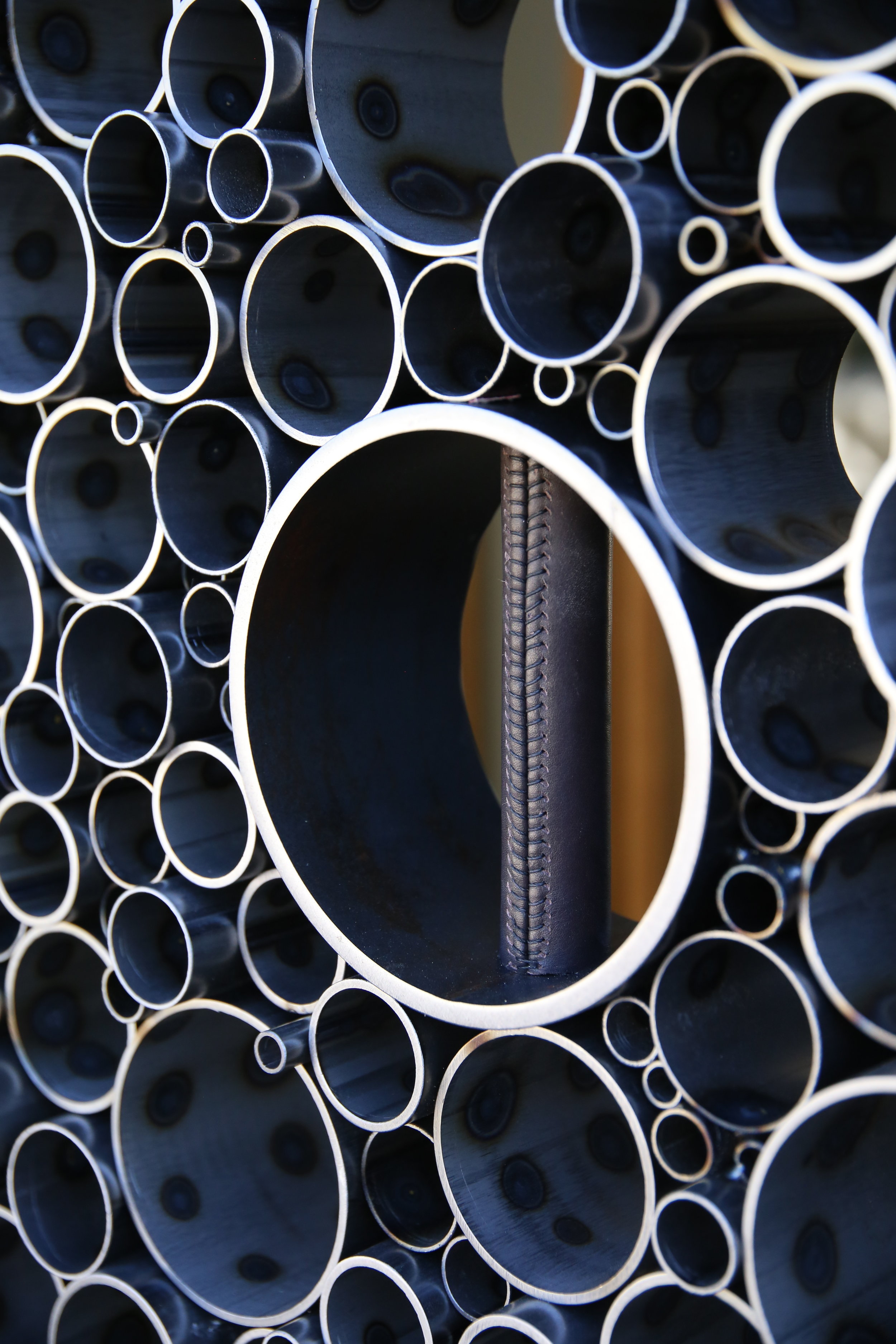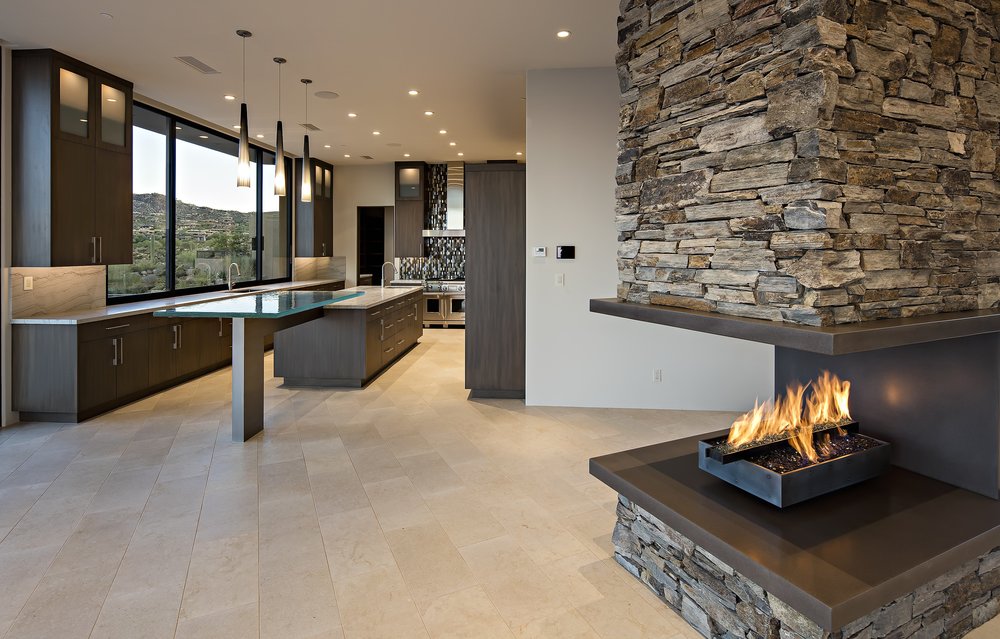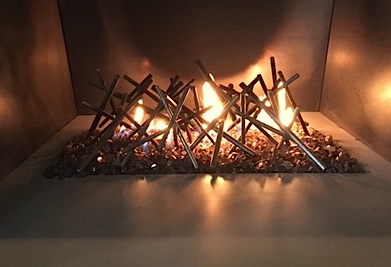 Brexley Entry
Brexley cage entry handle and projected pipe detail.
Brexley Entry
This cage entry at the Brexley is made up of just under 8000 random sizes and diameter of steel pipe.
Brexley Entry
Brexley cage entry detail at outer corner.
Brexley Entry
Frame detail at outer corner.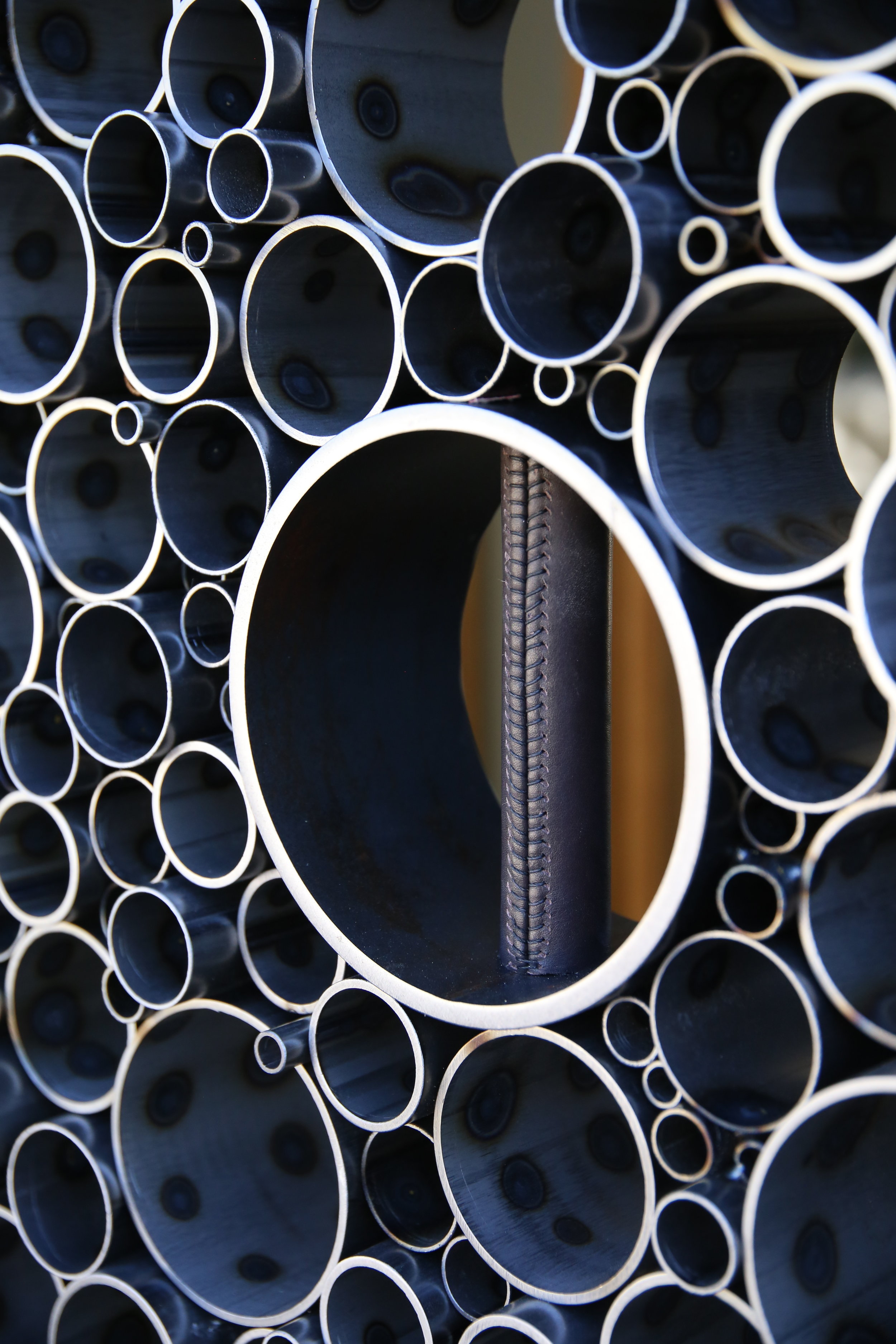 Brexley Entry
Leather wrapped handle detail.
Brexley Entry
Pipe projections at frame.
Pinkus Desk
Turn buckle detail at leg.
Pinkus Desk
This beautiful vintage industrial desk was designed to be fully disassembled for transport through its carefully though out bolting placements. Completely hand made hand cut steel parts. Hand hammered rivets, custom made turn buckle parts, torch cut and lightly polished steel plate edges add a beautiful vintage texture to the frame edges of the steel boxes. the countertop is flush mounted concrete panels. Distressed wood was used for the drawers that house ball bearing glides with integrated filing cabinets and organizers.
Pinkus Desk
Torch cut steel plate details at cabinet boxes.
Pinkus Desk
Turnbuckle detail at desktop frame.
Schmelder Entry Water Feature
Radius steel water wall with elevated concrete countertop.
Wine Holder
These stainless steel pipes make a full passage through the wall.
Wine Holder
These stainless steel pipes pass through the kitchen wall allowing access from both sides.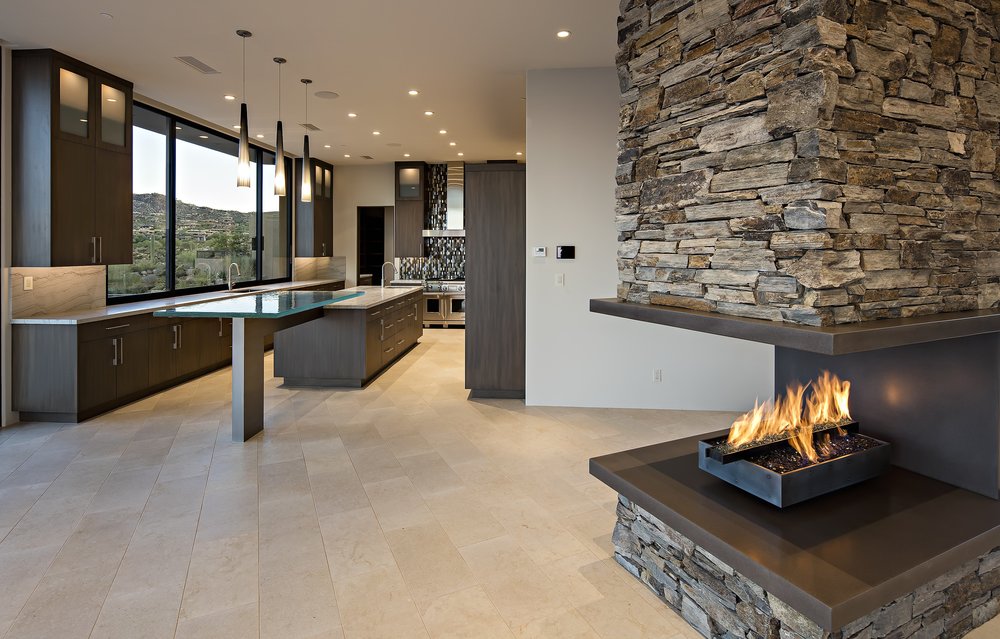 Biers Fire Box
This 2 tier firebox runs off of two separate burners throwing separate flame patterns.
Ladder Stairs
This stairs is made up of 1/4" thick steel plate that was folded and welded together at its seams. The handrail seconds as a stiffener.
Schmelder Residence
Large structural I beam and steel landscape boarders.
I Beam
I Beam connection detail.
Hive Wyre
This large steel plate was water jet and patina'd. Its lettering is back plated with a yellow acrylic panel.
Steel Lockers
Large vintage industrial steel lockers with hammered bracket detail.
Kory Residence
Steel divider detail with micro LED's.
Schmelder Outdoor Shower
Hot rolled and welded rivet wall with custom copper shower head.
Address
Custom steel address numbers pinned off of concrete.
Fire Box
Steel firebox with welded rivets and brushed/hammered finish.
Glass Rack
Stainless steel wine glass rack with snap over perforated steel shelf.
Glass Rack
Shelf standoff detail at the wall.
Stuckey Gate
Custom black powder coated entry gate with wood slat standoffs and stained cedar slats.
Stuckey Gate
Standoff detail at wood slats.
Gravity Bench
I beam and concrete gravity bench with full passthrough all thread.
Landscape Boarders
Steel planter borders are a great landscape frame for holding back small raised beds or boarders used to frame out landscaping.
Wood Fired Oven
This wood fired oven is cladded in overlapping 1/8" hot rolled steel plate. The back welds on the panels ghost through adding a random knotting effect to the surface of the steel.
Wood Fired Oven
Close up detail if the surface.
Vitesse Table
This cool little table has a center piece steel support bracket that is made up of 1/2" thick water jet hot rolled steel.
Vallone Coffee Table
This little coffee table base has a brushed and lightly patina'd cold rolled steel frame and concrete countertop.
ACI Signage
Brochure signage for ACI made of water jet steel parts.
Sign Stand
industrial torch cut sign legs with rubber cushioned leveler feet.
Stainless Steel Pan Shelf
Custom stainless steel pan shelf doubles as a countertop support.
Steel Fireplace Surround
This four sided fireplace surround is cladded in 1/8" thick hot rolled steel panels with carnauba wax finish.
Steel Firebox With Welded Rivets
Steel firebox with welded rivets and smooth satin finish.
Floating Shelves
3/4" thick cold rolled steel plate shelving with black patina and brushed micro beveled edge.
Patio Cover
This patio cover is constructed of back to back C channel support columns and a welded steel frame roof structure cladded in corrugated Cor-Ten steel roofing.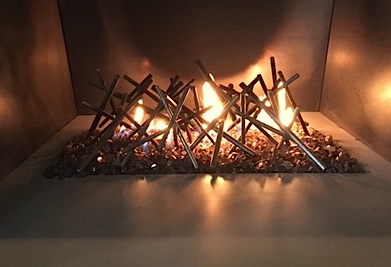 Twig Fire
This custom sculptural little fire display is made of small randomized sections of 3/8" steel bar and sits in a bed of decorative glass.
Steel Firebox With Welded Rivets
This cold rolled steel fire box has welded rivets and a overlapping brush pattern.
Atrium House
Cor-Ten steel skin and pole fence/gate. custom scupper details.
Pin Bench
4" I beam with welded support structure makes it possible for this concrete to defy the rules.
Outdoor TV Enclosure
This was one of three outdoor TV cabinets. Its made of expanded metal and steel frame with remote compartments and matte white powder coat. Its front is hinged and swings down.
Art Wall
This art wall has and industrial style steel frame with picture rail and a center piece of concrete panels.
Schmelder Kitchen
Tube steel bar support with microwave shelf.
Schmelder Windo Wall
This small window wall was made with intersecting I beam supports and steel frame.
Steel Tiles
These hot rolled steel tiles.
Carpenter Gate
This gate is made up of layers of natural rusted 1/8" hot rolled steel plate. Its centerpiece acts a s a secondary pull handle.